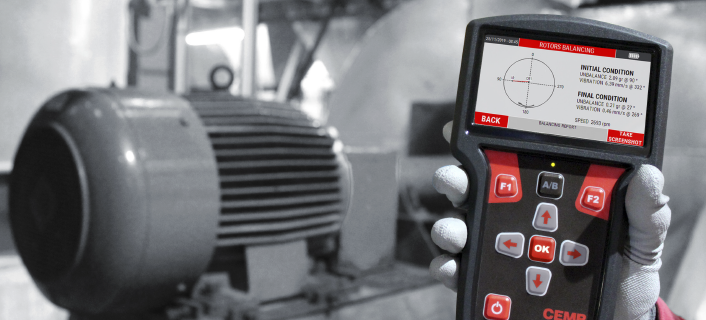 For the winter of 2020, CEMB Hofmann has just launched the N330, a dual-channel portable balancer vibrometer and machine analyser in the UK. The handheld N330 has been designed by CEMB to be used by any engineer to identify vibration within their machines quickly and easily. Engineers simply assemble the transmitter via a cable to the N330 then place the end facing down on the equipment. Turn the handheld N330 on and wait for the red light to flash. The instrument displays the unbalance values. The menu button will provide you with the option to save over 1000+ readings, thanks to 14.8 GB of space that can be expended to 128 GB.
The new N330 is capable of both single plane and 2 plane balancing. Now it's possible to make a sequential switching between channels 1-A and 1-B avoiding an incorrect measure of each plane.
There are two modes to implement this feature:
Sequential Switching (automatic): Make a new balance, set up the record time and will start a new recording in Plane 1; at the end of the recording the software automatically switches the channel on the interface and start recording Plane 2.
Manual Switching: You can switch between Channel 1-A and 1-B (on Interface) by clicking over the polar graphic corresponding to Plane 1 and Plane 2 respectively (in N330). When recording, the software will acquire the signal on that Plane.
The N330 allows engineers to identify balancing issues onsite quickly and easily. If machinery is left with an unbalanced component, breakdowns and faults in production will occur leading to loss of production and money. The N330 gives engineers ahead starts on preventable breakdowns and resolves issues straight away instead of waiting for annual services where the issues require additional work.
For more information about the N330 or additional products and services, please fill out our enquiry form and we'll be in touch.