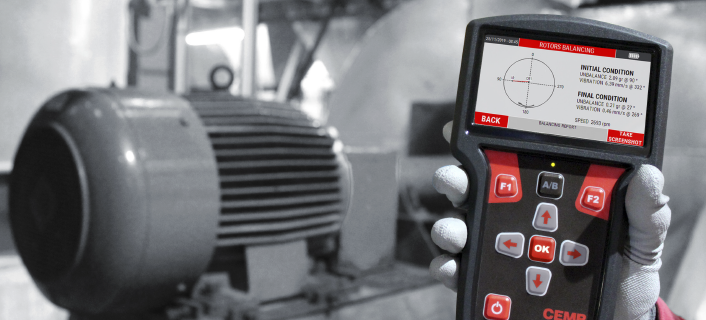 The handheld N330 is our latest dual-channel, portable balancing vibrometer and machine analyser. As a handheld device it is designed to enable engineers to identify vibration issues in the most convenient manner and pursue a proactive, preventative maintenance routine to limit production downtime and extend machine life.
Applicable across multiple sectors and applications, the N330 is intuitive to use and allows engineers to identify any balancing issues quickly onsite. While in use, the N330 displays the balance values and a menu button provides the option to save over 1000+ readings, thanks to 14.8GB of space that can be expended to 128GB.
The device is capable of both single and two-plane balancing as well as FFT, Smart Analysis, Vibrometer and Tachometer.
Technical Data:
General characteristics:
Colour display 4.3" TFT LCD (480 x 272 pixel). New Easy Click tactile keyboard with embossed keys.
Measurement types:
Effective value (RMS). Peak value (Pk). Peak-to-peak value (PP).
Measuring performance:
Bandwidth: 1-10 KHz FFT. Resolution: Max 3200 lines. Tacho: Up to 250000 rpm.
Units of measurement:
Acceleration: [g]. Velocity: [mm/s] or [inch/s]. Displacement: [μm] or [mils]. Frequency: [Hz] or [Cpm].
Input:
1 measuring channels IEPE sensor, accelerometer and velocimeter (with a specify cable pluggable on a BNC for read any dynamic signal max. 5V-PP). 2 channels specify for balancing (2nd channel as optional). 1 photocell channel (velocity and angle reference). 1 MicroUSB 2.0 port for data transfer 1 jack plug for battery charger.
Ambient:
Temperature: from -20° to +70° C. Air humidity: from 0 to 95% without condensate. Protection: IP54.
Power supply:
Long Life Battery: > 8 hours based on typical use. Charging time: 2.5 hours for 80% recharge 4 hours for 100% recharge. Rechargeable 3100 mAh Lithium battery. Power supply-battery charger for 100-240 V, 50/60 Hz (24 V, 1.5 A).
Carrying case dimensions and weight
Approx. 440(L) x 360 (H) x 115(D) 1800g.
From our base in the UK, in addition to the supply of high-quality machines, we offer a comprehensive support service including installation and commissioning, engineer service and support plus swift parts supply. We also offer contract balancing services at our state-of-the-art dynamic balancing facility based in Manchester to cover any capacity or capability constraints.