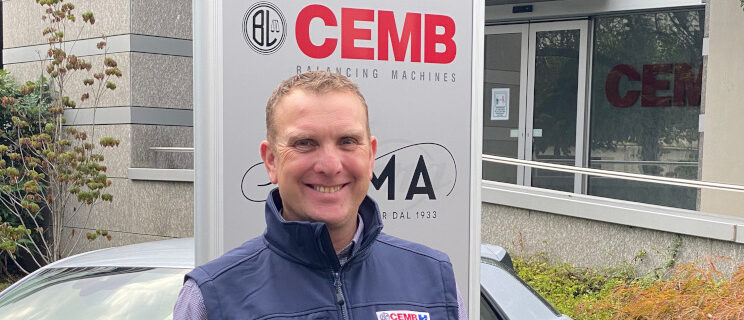 Sean Bromley (49) has been appointed as Area Sales Manager for the east of England at CEMB Hofmann UK. Taking up the role in August 2021, he joins an established team of sales, engineering and technical support experts and is responsible for not only advising and building close working relationships with existing customers, but also companies looking for a new partner to resolve their balancing or vibration issues.
Reporting to Managing Director Rob Jeffery, he will now work across the company's comprehensive dynamic balancing service portfolio, including new machine sales, sub-contract balancing and support services, offering customers objective advice to ensure that they get the best possible solution to their dynamic balancing requirements.
With over 26 years' experience in the automotive, construction and rail industries, all key sectors for the company, Sean will also be involved in ensuring the smooth installation and support of dynamic balancing machines. To successfully achieve this, he will work across the whole implementation process, from early requirement identification and machine specification through to machine ordering, installation and the identification and roll-out of any relevant support services.
Sean comments: "I have joined CEMB Hofmann at an exciting time as the company looks to ramp up activity following the pandemic. It offers a comprehensive range of balancing services backed up by fantastic knowledge and support, all delivered from within the UK. I'm looking forward to driving considerable growth over the coming years as the company further establishes itself as a market leader."
Commenting on Sean's appointment, Rob Jeffery says: "I was aware of Sean's excellent reputation, and he has many transferable skills. As such I was keen to get him on board as I knew he would not only be an excellent fit for the company, but that he also would add tremendous value for our customers. He has already made a significant difference in the support he offers to our customers and his drive to find new opportunities for us."
Sean lives in Whalley Bridge, Derbyshire and enjoys spending his spare time walking in the Peak District. He also has a love of classic motorcycles and listening to music.