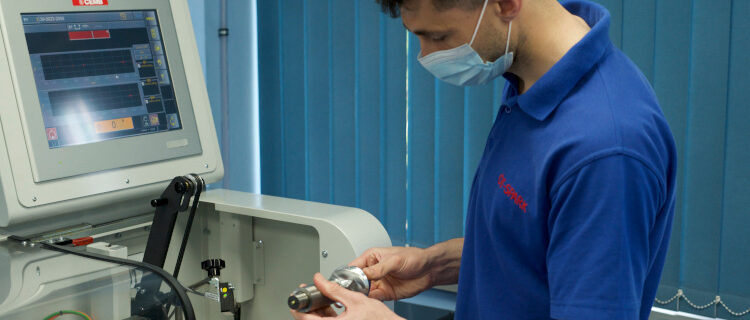 One of the world's leading precision machining companies, Di-Spark, has invested in a ZBT02 horizontal dynamic balancing machine from CEMB Hoffmann UK.
Based in Horndean, Hampshire, Di-Spark operates around the clock, manufacturing world-class aerospace components for its global customer base, including parts and sub-assemblies.
As a result of Di-Spark's investment, the company is now able to dynamically balance its products and sub-assemblies in-house, offering a complete service to its customers from design drawings through to delivery. Currently this includes impeller and inducer components, parts and sub-assemblies although the company has plans to expand this offering across its full product range and additionally offer sub-contract balancing services.
Rob Severne, CAD/CAM Engineer at Di-Spark, comments: "CEMB Hofmann offered to test-balance some of our parts before we committed to purchasing the machine and the results were impressive. This added value service is what really made them stand out and delivering proof of concept gave us peace of mind and confidence that we were investing in the right machine for our application."
Installation and calibration of the new machine was completed by CEMB Hofmann UK in May 2021 and comprehensive training was delivered by the company to Di-Spark at this time.
"Their engineer, Tim, was incredibly helpful and informed," continues Rob Severne. "He delivered the training in a very practical way that ensured we had the knowledge to do what we needed to without overcomplicating things. This was key to a successful implementation and we're already seeing the benefits in the form of additional work from our customers."
Indeed, by offering a balancing service in-house rather than having to sub-contract the work, Di-Spark is able to save its customers money and the additional provision has been well received.
Rob Jeffery, Managing Director at CEMB Hofmann UK, comments: "Di-Spark has an exceptional reputation in aerospace and is at the forefront of precision machining in the sector. We understood that it was vital for them to have total confidence in their investment and we were able to undertake test balancing as we have our own sub-contract balancing facility located in the UK.
"We are also delighted that the installation and training went so well as we invest heavily in ensuring our UK team is well trained and knowledgeable. We're looking forward to continuing to work with Di-Spark and support them on their journey."