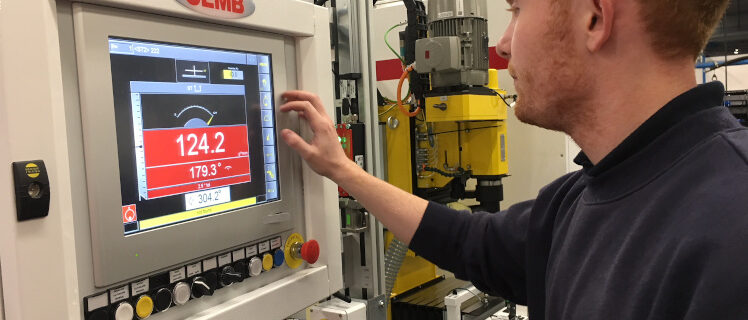 CEMB Hofmann UK has always taken its commitment to training very seriously and its team of UK-based service engineers is no exception.
The engineers are a key part of the company's dynamic balancing offering, the most comprehensive in the UK, covering machine supply, support services, parts supply and sub-contract balancing. Offering an expert service and a swift response to support requests, the engineer team covers the whole of the UK and Ireland.
Each engineer must have a BTEC HNC in Mechanical / Electrical Engineering as a minimum before being employed by the company. Upon appointment, comprehensive training and continual professional development plans are put in place depending on their distinct requirements.
The first part of the training plan is a comprehensive induction at CEMB Hofmann UK's state-of-the-art dynamic balancing facility based in Manchester, where the company manages it sub-contracting business. Here the engineers learn about the range of balancing machines on offer and gain hands-on experience of dynamic balancing.
The engineers are then sent on an 18 month placement to the training academy at CEMB S.p.A in Italy. Here they learn how to build standard and fully automatic balancing machines including assembly, installation, testing and sign-off.
While in the testing department, the engineers learn about the PLCs and drives common to CEMB S.p.A balancing machines. Each spends time training in the mechanical, electrical and testing departments building knowledge and skills which they will then employ out in the field on their return to the UK.
The training in Italy is considered one of the most comprehensive plans in Europe with machine verification certified to BS ISO 21940-21.
In addition to the placement in Italy, each engineer is also sent on external courses, including training on industry wide PLCs and drive invertors. Considerable time is also spent in-house learning about the software package to complete a comprehensive and holistic training plan.
However, the training doesn't end there. Engineers return annually to CEMB S.p.A for refresher training and also whenever a new machine is ordered to learn about build, installation and commissioning before passing-off to the customer. Further external and internal training is organised as required.
Rob Jeffery, Managing Director at CEMB Hofmann UK comments: "Over the years we have invested a six figure sum ensuring that our engineers are the best trained in the UK. This is because our engineers really are a vital part of the company and without them we wouldn't be able to offer such a comprehensive and responsive service to our customers.
"As our engineers are based in the UK we are able to respond to support requests from our customers to very short timescales, a service that is not available elsewhere as engineers often have to travel in from Europe. It just makes good business sense to ensure our engineers are well trained so they have the knowledge and confidence to look after our customers and deliver a best-in-class service."