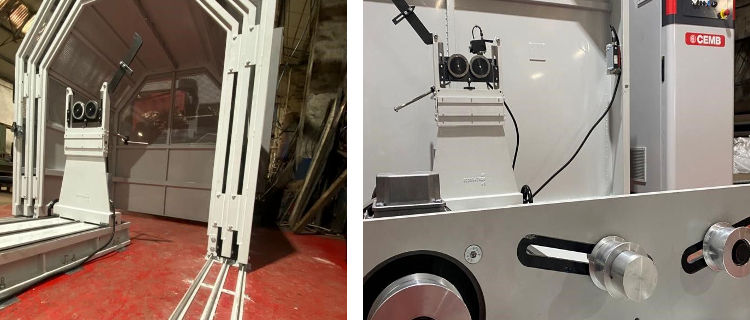 A Northern Ireland based agricultural machine manufacturer, D Tec Engineering (NI) LTD, has invested in a ZB750 TC/GV belt drive horizontal balancing machine from CEMB Hoffmann UK.
Based in Clogher, County Tyrone, D Tec Engineering (NI) LTD is a family run company, specialising in the design, manufacture and repair of augers and flair head mulcher attachments. A vital part of the company's manufacturing process and service offering is the dynamic balancing of all kinds of rotors and shafts, and the ZB750 machine was purchased to specifically balance flail rotors.
The machine can balance rotors up to a weight of 1,100 kgs and D Tec Engineering (NI) LTD upgraded the specification to include a 4m bed, tunnel guarding, 7.5kw drive motor and B11 touch screen measuring instrumentation. The order was placed following a demonstration of a selection of machines at CEMB Hofmann UK's workshop facility in Manchester.
Installation, calibration and commissioning of the new machine was completed by CEMB Hofmann UK in early January 2022 and comprehensive training was also delivered to D-Tec Engineering (NI) LTD at this time.
Patrick O'Hanlon, Company Manager at D-Tec Engineering (NI) LTD, comments: "We found the machine easy to set up with the touch screen, and there's no need for test spins or weights. All we have to do is choose the correction planes, the distances and the correction diameters and this makes it easy to balance the flail rotors that have different dimensions. Everybody we dealt with during the purchase was top class, especially Tim and Keith, the engineers who installed the machine, and Sean, the Regional Sales Manager."
Rob Jeffery, Managing Director at CEMB Hofmann UK, comments: "We have a fantastic relationship with Patrick and his team, and they have been a real pleasure to do business with. We have a great deal of experience in the agricultural engineering sector and are looking forward to continuing to support them on their journey."